1. Installation Recommendation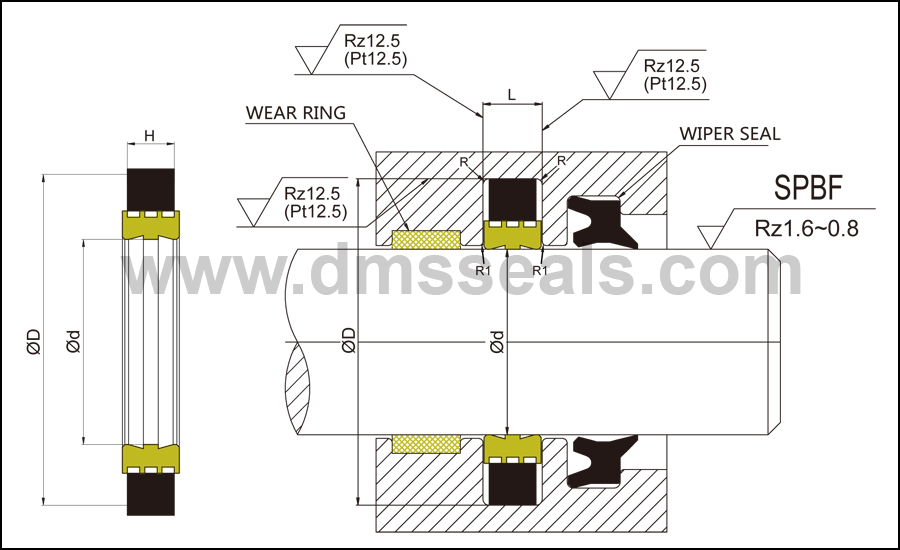 2. Application and properties
The standard combination seal is suitable for a wide range of pressure work and sliding high speed occasions. Low friction, strong wear resistance.
3. Standard materials
Sealing ring: filled PTFE
O-Ring: NBR / FKM
4. Working Conditions
Working Conditions

Diameter Range

Pressure Range

Temperature Range

Speed

Medium

6-1600mm

0-35MPa

-30℃ +200℃

1.5 m/s

general hydraulic oil, water glycol Hydraulic oil and water emulsion type hydraulic oil.
5. Installation Dimensions
Order No.

d

D

H

L +0.2

18

20

22

27

29

31

4.3

4.3

4.3

4.5

4.5

4.5

SPN18*27*4.3

SPN20*29*4.3

SPN22*31*4.3

27

31.5

47

36

40.5

60

4.3

4.3

7.3

4.5

4.5

7.5

SPN27*36*4.3

SPN31.5*40.5*4.3

SPN47*60*7.3

53

60

65

66

73

78

7.3

7.3

7.3

7.5

7.5

7.5

SPN53*66*7.3

SPN60*73*7.3

SPN65*78*7.3

70

75

80

83

88

93

7.3

7.3

7.3

7.5

7.5

7.5

SPN70*83*7.3

SPN75*88*7.3

SPN80*93*7.3

90

100

110

103.4

113.4

123.4

7.3

7.3

7.3

7.5

7.5

7.5

SPN90*103.4*7.3

SPN100*113.4*7.3

SPN110*123.4*7.3

120

130

140

133.4

143.4

153.4

7.3

7.3

7.3

7.5

7.5

7.5

SPN120*133.4*7.3

SPN130*143.4*7.3

SPN140*153.4*7.3