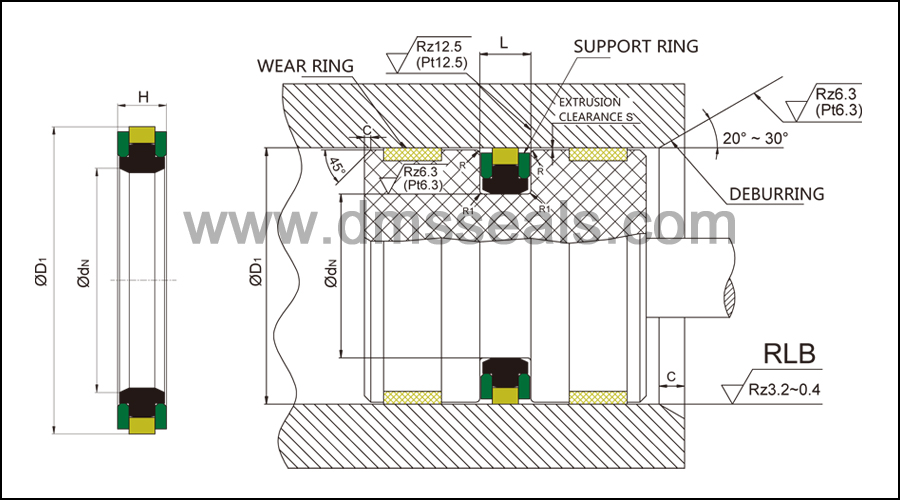 1. Performance and use
It is suitable for long-stroke and wide-ranging fluid applications, and it is excellent for heavy-duty two-way piston sealing applications under high-pressure conditions.
It has good static sealing performance, can be applied to larger piston clearances, and has good leakage control, extrusion resistance and wear resistance in heavy-duty and construction machinery cylinder piston sealing systems.
The groove structure is simple, and it can be used safely in medium with slight pollutants.
One-piece piston with smaller installation groove. Comply with GB/T 15242.1-94 and GB/T 15242.3-94 standards.
The prominent advantages of this seal are good extrusion resistance, small leakage and long life, and it is widely used in high-pressure heavy-duty oil cylinders (such as excavator oil cylinders).
2. Materials
Sealing ring: Filled with polytetrafluoroethylene (PTFE). According to different working conditions and sealing requirements, different filling materials and filling processes can be selected, please contact us for details.
Elastomer: nitrile rubber NBR, fluororubber FKM. The material is determined according to the temperature and working medium of the working conditions, if you are not sure, please contact us. If you need to match fluorine rubber (FKM) elastomer, please explain before ordering.
Retaining ring: polyamide resin (PA).
3. Precautions:
Ⅰ. Before installation, use tooling or hot oil to expand the slip ring, and return it to its original shape after installation.
Ⅱ. After installation, the elastic body should hug the bottom of the groove, otherwise it is unqualified and must not be used.
| | | | |
| --- | --- | --- | --- |
| NO. | SIZE | NO. | SIZE |
| 1 | SPGW50*36*8.5 | 23 | SPGW160*137*15.5 |
| 2 | SPGW55*41*8.5 | 24 | SPGW170*147*15.5 |
| 3 | SPGW60*46*8.5 | 25 | SPGW180*157*15.5 |
| 4 | SPGW63*48*10.5 | 26 | SPGW190*167*15.5 |
| 5 | SPGW65*50*10.5 | 27 | SPGW200*177*15.5 |
| 6 | SPGW70*55*10.5 | 28 | SPGW210*187*15.5 |
| 7 | SPGW75*60*10.5 | 29 | SPGW220*197*15.5 |
| 8 | SPGW80*65*10.5 | 30 | SPGW225*202*15.5 |
| 9 | SPGW85*70*10.5 | 31 | SPGW230*207*15.5 |
| 10 | SPGW90*75*10.5 | 32 | SPGW240*217*15.5 |
| 11 | SPGW95*80*10.5 | 33 | SPGW250*222*17 |
| 12 | SPGW100*85*12 | 34 | SPGW260*232*17 |
| 13 | SPGW105*90*12 | 35 | SPGW270*242*17 |
| 14 | SPGW110*95*12 | 36 | SPGW280*252*17 |
| 15 | SPGW115*100*12 | 37 | SPGW290*262*17 |
| 16 | SPGW120*105*12 | 38 | SPGW300*272*17 |
| 17 | SPGW125*102*15.5 | 39 | SPGW310*282*17 |
| 18 | SPGW130*107*15.5 | 40 | SPGW320*292*17 |
| 19 | SPGW135*112*15.5 | 41 | SPGW330*302*17 |
| 20 | SPGW140*117*15.5 | 42 | SPGW340*312*17 |
| 21 | SPGW145*122*15.5 | 43 | SPGW350*322*17 |
| 22 | SPGW150*127*15.5 | | |