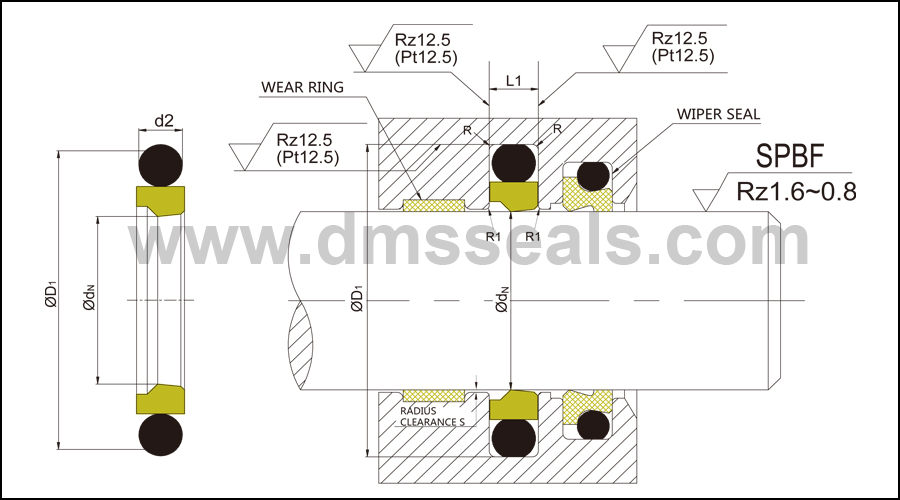 | | |
| --- | --- |
| Item | Specifications |
| Product Name | Mechanical Heavy Duty Opposite Step Seal GSJ |
| Products Category | Hydraulic seals, Oil seals, O-Rings |
| Material | PTFE, PU, NBR, FKM, PA, POM, Silicone, EPDM, FFKM, UPE, PEEK etc. |
| Propeties | High temperature, low temperature, high pressure, low pressure,friction resistance |
| Sizes | Standard and customize |
| Medium | Hydraulic oil, anti-fire fluid, water, gas etc |
| Application | excavators, loaders, graders, dump trucks, forklifts, bulldozers, scrapers, mining trucks, cranes, aerial vehicles, garbage transfer vehicle, sliding cars, agricultural machinery, logging equipment, etc. |
Precautions:
1. In general, this seal is ideal as a buffer seal. Not recommended for use as a single seal. If the piston rod retracts faster than it extends, it can be used alone, but must be combined with a double-lip wiper.
2. If the other parameters of the O-ring are qualified, the diameter of the ring is 1~2% larger than the value listed in the sample, which will not affect the use.
3. When installing, the sealing ring can be bent into a heart shape and put into the groove, but there must be no creases.
4. Pay attention to the direction when installing this seal, the gap corresponds to the direction of oil pressure
5. The hardness value of the piston rod surface is recommended to be greater than HRC40
| | | | |
| --- | --- | --- | --- |
| NO. | SIZE | NO. | SIZE |
| 1 | GSJ20*27.3*3.2 | 48 | GSJ135*150.1*6.3 |
| 2 | GSJ20*30.7*4.2 | 49 | GSJ135*155.5*8.1 |
| 3 | GSJ22*29.3*3.2 | 50 | GSJ140*155.1*6.3 |
| 4 | GSJ22*32.7*4.2 | 51 | GSJ140*160.5*8.1 |
| 5 | GSJ25*32.3*3.2 | 52 | GSJ145*160.1*6.3 |
| 6 | GSJ25*35.7*4.2 | 53 | GSJ150*165.1*6.3 |
| 7 | GSJ28*38.7*4.2 | 54 | GSJ150*170.5*8.1 |
| 8 | GSJ30*40.7*4.2 | 55 | GSJ160*175.1*6.3 |
| 9 | GSJ32*42.7*4.2 | 56 | GSJ160*180.5*8.1 |
| 10 | GSJ35*45.7*4.2 | 57 | GSJ165*180.1*6.3 |
| 11 | GSJ36*46.7*4.2 | 58 | GSJ170*185.1*6.3 |
| 12 | GSJ40*50.7*4.2 | 59 | GSJ170*190.5*8.1 |
| 13 | GSJ40*55.1*6.3 | 60 | GSJ180*195.1*6.3 |
| 14 | GSJ45*55.7*4.2 | 61 | GSJ180*200.5*8.1 |
| 15 | GSJ45*60.1*6.3 | 62 | GSJ190*205.1*6.3 |
| 16 | GSJ50*60.7*4.2 | 63 | GSJ190*210.5*8.1 |
| 17 | GSJ50*65.1*6.3 | 64 | GSJ200*220.5*8.1 |
| 18 | GSJ55*65.7*4.2 | 65 | GSJ210*230.5*8.1 |
| 19 | GSJ55*70.1*6.3 | 66 | GSJ220*240.5*8.1 |
| 20 | GSJ60*70.7*4.2 | 67 | GSJ230*250.5*8.1 |
| 21 | GSJ60*75.1*6.3 | 68 | GSJ240*260.5*8.1 |
| 22 | GSJ63*73.7*4.2 | 69 | GSJ250*270.5*8.1 |
| 23 | GSJ63*78.1*6.3 | 70 | GSJ260*284*8.1 |
| 24 | GSJ65*80.1*6.3 | 71 | GSJ270*294*8.1 |
| 25 | GSJ70*80.7*4.2 | 72 | GSJ280*304*8.1 |
| 26 | GSJ70*85.1*6.3 | 73 | GSJ290*314*8.1 |
| 27 | GSJ75*90.1*6.3 | 74 | GSJ300*324*8.1 |
| 28 | GSJ80*95.1*6.3 | 75 | GSJ310*334*8.1 |
| 29 | GSJ85*100.1*6.3 | 76 | GSJ320*344*8.1 |
| 30 | GSJ90*105.1*6.3 | 77 | GSJ330*354*8.1 |
| 31 | GSJ90*110.5*8.1 | 78 | GSJ340*364*8.1 |
| 32 | GSJ95*110.1*6.3 | 79 | GSJ350*374*8.1 |
| 33 | GSJ95*115.5*8.1 | 80 | GSJ360*384*8.1 |
| 34 | GSJ100*115.1*6.3 | 81 | GSJ370*394*8.1 |
| 35 | GSJ100*120.5*8.1 | 82 | GSJ380*404*8.1 |
| 36 | GSJ105*120.1*6.3 | 83 | GSJ390*414*8.1 |
| 37 | GSJ105*125.5*8.1 | 84 | GSJ400*424*8.1 |
| 38 | GSJ110*125.1*6.3 | 85 | GSJ410*434*8.1 |
| 39 | GSJ110*130.5*8.1 | 86 | GSJ420*444*8.1 |
| 40 | GSJ115*130.1*6.3 | 87 | GSJ430*454*8.1 |
| 41 | GSJ115*135.5*8.1 | 88 | GSJ440*464*8.1 |
| 42 | GSJ120*135.1*6.3 | 89 | GSJ450*474*8.1 |
| 43 | GSJ120*140.5*8.1 | 90 | GSJ460*484*8.1 |
| 44 | GSJ125*140.1*6.3 | 91 | GSJ470*494*8.1 |
| 45 | GSJ125*145.5*8.1 | 92 | GSJ480*504*8.1 |
| 46 | GSJ130*145.1*6.3 | 93 | GSJ490*514*8.1 |
| 47 | GSJ130*150.5*8.1 | 94 | GSJ500*524*8.1 |