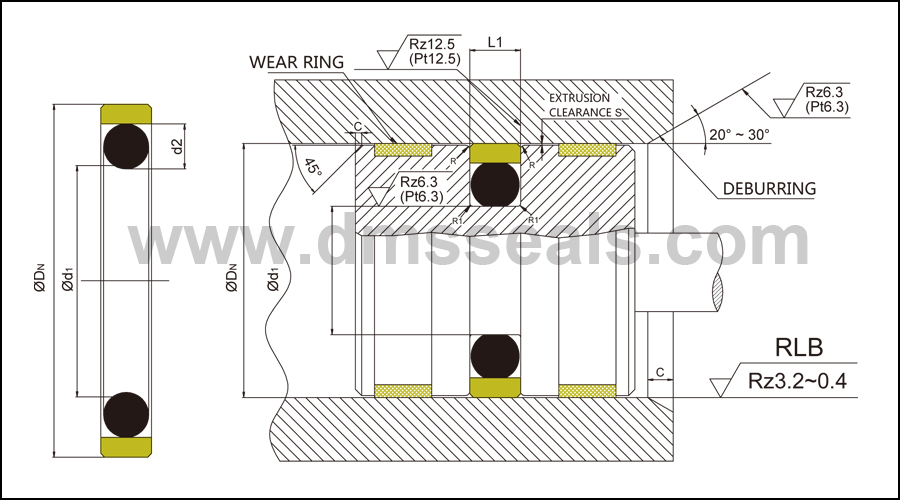 1. Performance and use
Suitable for two-way motion piston seals, especially fast response cylinders in control cylinders, servo cylinders, machine tools and construction machinery.
Small coefficient of friction, wear resistance, long life. It can work with or without lubrication, and can be used for oil-free lubrication cylinder seals.
The adaptability of the working medium and the working temperature range can be changed by changing the material of the O-ring.
It can be used in special working conditions such as extremely high speed, extremely low speed, and micro stroke.
Comply with GB/T 15242.1-94 and GB/T 15242.3-94 standards.
It is suitable for one-piece piston, the installation groove is small, the extrusion resistance is good, and the installation clearance is larger than that of ordinary seals.
Products with different cross-sections can be selected according to the actual working pressure. In principle, the greater the working pressure, the larger the cross-section should be selected.
2. Materials
Sealing ring: Filled with polytetrafluoroethylene (PTFE). According to different working conditions and sealing requirements, different filling materials and filling processes can be selected, please contact us for details.
O-ring: nitrile rubber NBR, fluororubber FKM. The material of the O-ring is determined according to the temperature and working medium of the working condition, if you are not sure, please contact us. If you need to match fluorine rubber (FKM) O-ring, you need to explain before ordering.
| | | | |
| --- | --- | --- | --- |
| NO. | SIZE | NO. | SIZE |
| 1 | GSF20*15.1*2.2 | 57 | GSF120*109*4.2 |
| 2 | GSF20*12.5*3.2 | 58 | GSF120*104.5*6.3 |
| 3 | GSF24*19.1*2.2 | 59 | GSF120*99*8.1 |
| 4 | GSF24*16.5*3.2 | 60 | GSF125*109.5*6.3 |
| 5 | GSF25*17.5*3.2 | 61 | GSF125*104*8.1 |
| 6 | GSF25*14*4.2 | 62 | GSF130*114.5*6.3 |
| 7 | GSF28*20.5*3.2 | 63 | GSF130*109*8.1 |
| 8 | GSF28*17*4.2 | 64 | GSF135*119.5*6.3 |
| 9 | GSF30*22.5*3.2 | 65 | GSF135*114*8.1 |
| 10 | GSF30*19*4.2 | 66 | GSF140*124.5*6.3 |
| 11 | GSF32*24.5*3.2 | 67 | GSF140*119*8.1 |
| 12 | GSF32*21*4.2 | 68 | GSF145*129.5*6.3 |
| 13 | GSF35*27.5*3.2 | 69 | GSF145*124*8.1 |
| 14 | GSF35*24*4.2 | 70 | GSF150*134.5*6.3 |
| 15 | GSF36*28.5*3.2 | 71 | GSF150*129*8.1 |
| 16 | GSF36*25*4.2 | 72 | GSF160*144.5*6.3 |
| 17 | GSF38*30.5*3.2 | 73 | GSF160*139*8.1 |
| 18 | GSF38*27*4.2 | 74 | GSF170*154.5*6.3 |
| 19 | GSF40*32.5*3.2 | 75 | GSF170*149*8.1 |
| 20 | GSF40*29*4.2 | 76 | GSF180*164.5*6.3 |
| 21 | GSF45*37.5*3.2 | 77 | GSF180*159*8.1 |
| 22 | GSF45*34*4.2 | 78 | GSF190*174.5*6.3 |
| 23 | GSF50*39*4.2 | 79 | GSF190*169*8.1 |
| 24 | GSF50*34.5*6.3 | 80 | GSF200*184.5*6.3 |
| 25 | GSF55*44*4.2 | 81 | GSF200*179*8.1 |
| 26 | GSF55*39.5*6.3 | 82 | GSF210*189*8.1 |
| 27 | GSF60*49*4.2 | 83 | GSF220*199*8.1 |
| 28 | GSF60*44.5*6.3 | 84 | GSF225*204*8.1 |
| 29 | GSF63*52*4.2 | 85 | GSF230*209*8.1 |
| 30 | GSF63*47.5*6.3 | 86 | GSF240*219*8.1 |
| 31 | GSF65*54*4.2 | 87 | GSF250*229*8.1 |
| 32 | GSF65*49.5*6.3 | 88 | GSF260*239*8.1 |
| 33 | GSF70*59*4.2 | 89 | GSF270*249*8.1 |
| 34 | GSF70*54.5*6.3 | 90 | GSF280*259*8.1 |
| 35 | GSF75*64*4.2 | 91 | GSF290*269*8.1 |
| 36 | GSF75*59.5*6.3 | 92 | GSF300*279*8.1 |
| 37 | GSF80*69*4.2 | 93 | GSF310*289*8.1 |
| 38 | GSF80*64.5*6.3 | 94 | GSF320*299*8.1 |
| 39 | GSF85*74*4.2 | 95 | GSF330*305.5*8.1 |
| 40 | GSF85*69.5*6.3 | 96 | GSF340*315.5*8.1 |
| 41 | GSF90*79*4.2 | 97 | GSF350*325.5*8.1 |
| 42 | GSF90*74.5*6.3 | 98 | GSF360*335.5*8.1 |
| 43 | GSF95*84*4.2 | 99 | GSF370*345.5*8.1 |
| 44 | GSF95*79.5*6.3 | 100 | GSF380*355.5*8.1 |
| 45 | GSF100*89*4.2 | 101 | GSF390*365.5*8.1 |
| 46 | GSF100*84.5*6.3 | 102 | GSF400*375.5*8.1 |
| 47 | GSF100*79*8.1 | 103 | GSF410*385.5*8.1 |
| 48 | GSF105*94*4.2 | 104 | GSF420*395.5*8.1 |
| 49 | GSF105*89.5*6.3 | 105 | GSF430*405.5*8.1 |
| 50 | GSF105*84*8.1 | 106 | GSF440*415.5*8.1 |
| 51 | GSF110*99*4.2 | 107 | GSF450*425.5*8.1 |
| 52 | GSF110*94.5*6.3 | 108 | GSF460*435.5*8.1 |
| 53 | GSF110*89*8.1 | 109 | GSF470*445.5*8.1 |
| 54 | GSF115*104*4.2 | 110 | GSF480*455.5*8.1 |
| 55 | GSF115*99.5*6.3 | 111 | GSF490*465.5*8.1 |
| 56 | GSF115*94*8.1 | 112 | GSF500*475.5*8.1 |