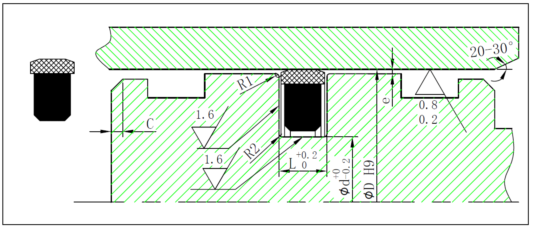 1. Performance and use
It consists of a slip ring with a Z-shaped opening and a square rubber elastic body.
It is suitable for two-way hydraulic sealing of reciprocating pistons. It has a wide range of working pressure and has good sealing performance at high, medium and low pressures. It is especially suitable for heavy-duty hydraulic cylinders, and can be used for high-pressure and ultra-high-pressure cylinders.
Small cross-section and small installation groove size.
The friction coefficient of starting and running is small, and the oil cylinder runs smoothly.
The slip ring is open for easy installation without special installation tools.
Good abrasion resistance.
High pressure resistance, strong extrusion resistance, good impact resistance.
2. Materials
Slip ring: HPT special thermoplastic material.
Elastomer: NBR
3. Labeling method
Mark with the size of the installation groove. The marking method is:
HPT "bore diameter D" × "groove bottom diameter d" × "groove width L"
For example, HPT 100×79×8 means "the HPT hole is sealed with a combination, and the groove size is: cylinder diameter 100, groove bottom diameter 79, groove width 8"