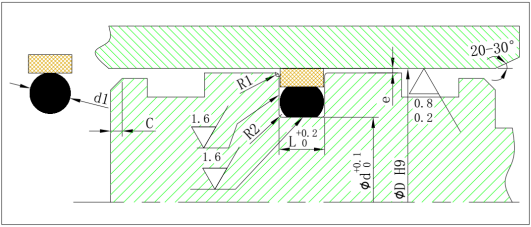 1. Performance and use
Suitable for two-way motion piston seals, especially medium and heavy duty fast response cylinders in control, machine tool and construction machinery.
Small coefficient of friction, wear resistance, long life.
The adaptability of the working medium and the working temperature range can be changed by changing the material of the O-ring.
It can be used in special working conditions such as extremely high speed and extremely low speed without crawling phenomenon.
Adapt to the one-piece piston, the installation groove is small, which is beneficial to the design of the cylinder size.
Comply with GB/T 15242.1-94 and GB/T 15242.3-94 standards.
It has good extrusion resistance and the installation gap is larger than that of ordinary seals.
2. Materials
Sealing ring: Filled with polytetrafluoroethylene (PTFE). According to different working conditions and sealing requirements, different filling materials and filling processes can be selected, please contact us for details.
O-ring: nitrile rubber NBR, fluororubber FKM. The material of the O-ring is determined according to the temperature and working medium of the working condition, if you are not sure, please contact us. If you need to match fluorine rubber (FKM) O-ring, you need to explain before ordering.
3. Precautions:
Ⅰ. If other parameters of the matched O-ring are qualified, a 1-2% difference in ring diameter will not affect the use.
Ⅱ. When installing, be careful not to twist the O-ring.
Ⅲ. Before installation, use tooling or hot oil to expand the slip ring, and return it to its original shape after installation.
| | | | | | |
| --- | --- | --- | --- | --- | --- |
| NO. | SIZE | NO. | SIZE | NO. | SIZE |
| 1 | SPGO60*6 | 25 | SPGO180*6 | 49 | SPGO180*7.9 |
| 2 | SPGO65*6 | 26 | SPGO185*6 | 50 | SPGO185*7.9 |
| 3 | SPGO70*6 | 27 | SPGO190*6 | 51 | SPGO190*7.9 |
| 4 | SPGO75*6 | 28 | SPGO195*6 | 52 | SPGO195*7.9 |
| 5 | SPGO80*6 | 29 | SPGO80*7.9 | 53 | SPGO200*7.9 |
| 6 | SPGO85*6 | 30 | SPGO85*7.9 | 54 | SPGO210*7.9 |
| 7 | SPGO90*6 | 31 | SPGO90*7.9 | 55 | SPGO220*7.9 |
| 8 | SPGO95*6 | 32 | SPGO95*7.9 | 56 | SPGO230*7.9 |
| 9 | SPGO100*6 | 33 | SPGO100*7.9 | 57 | SPGO240*7.9 |
| 10 | SPGO105*6 | 34 | SPGO105*7.9 | 58 | SPGO250*7.9 |
| 11 | SPGO110*6 | 35 | SPGO110*7.9 | 59 | SPGO260*7.9 |
| 12 | SPGO115*6 | 36 | SPGO115*7.9 | 60 | SPGO270*7.9 |
| 13 | SPGO120*6 | 37 | SPGO120*7.9 | 61 | SPGO280*7.9 |
| 14 | SPGO125*6 | 38 | SPGO125*7.9 | 62 | SPGO290*7.9 |
| 15 | SPGO130*6 | 39 | SPGO130*7.9 | 63 | SPGO300*7.9 |
| 16 | SPGO135*6 | 40 | SPGO135*7.9 | 64 | SPGO120*9.5 |
| 17 | SPGO140*6 | 41 | SPGO140*7.9 | 65 | SPGO125*9.5 |
| 18 | SPGO145*6 | 42 | SPGO145*7.9 | 66 | SPGO130*9.5 |
| 19 | SPGO150*6 | 43 | SPGO150*7.9 | 67 | SPGO135*9.5 |
| 20 | SPGO155*6 | 44 | SPGO155*7.9 | 68 | SPGO140*9.5 |
| 21 | SPGO160*6 | 45 | SPGO160*7.9 | 69 | SPGO145*9.5 |
| 22 | SPGO165*6 | 46 | SPGO165*7.9 | 70 | SPGO150*9.5 |
| 23 | SPGO170*6 | 47 | SPGO170*7.9 | 71 | SPGO160*9.5 |
| 24 | SPGO175*6 | 48 | SPGO175*7.9 | | |