1. Installation Recommendation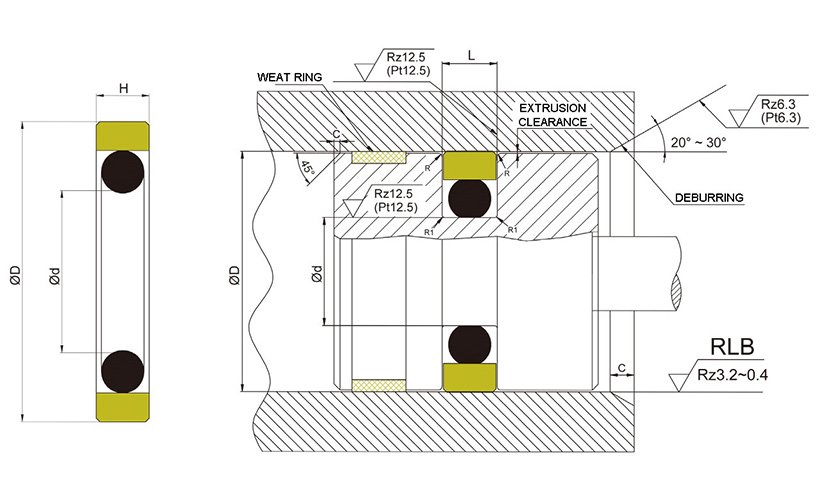 2. Application and properties
Standard bidirectional seal, a wide range of applications. Friction resistance is very low, no crawling phenomenon, strong wear resistance, and saving installation space.
3. Standard materials
Sealing ring: filled PTFE
O-ring: NBR / FKM
4. Working Conditions
Working Conditions

Diameter Range

Pressure Range

Temperature Range

Speed

Medium

3 - 1600mm

0 - 35MPa

-30℃ +200℃

1.5 m/s

hydraulic oil, flame retardant liquid, water and others.
| | | | |
| --- | --- | --- | --- |
| NO. | SIZE | NO. | SIZE |
| 1 | DPO20*14*3.2 | 32 | DPO135*121*6.5 |
| 2 | DPO25*19*3.2 | 33 | DPO140*126*6.5 |
| 3 | DPO30*21.5*4 | 34 | DPO150*136*6.5 |
| 4 | DPO31.5*23*4 | 35 | DPO160*146*6.5 |
| 5 | DPO32*23.5*4 | 36 | DPO170*150*10 |
| 6 | DPO35*26.5*4 | 37 | DPO180*160*10 |
| 7 | DPO35.5*27*4 | 38 | DPO190*170*10 |
| 8 | DPO40*31.5*4 | 39 | DPO200*180*10 |
| 9 | DPO45*36.5*4 | 40 | DPO180*160*10 |
| 10 | DPO50*41.5*4 | 41 | DPO190*170*10 |
| 11 | DPO53*44.5*4 | 42 | DPO200*180*10 |
| 12 | DPO55*46.5*4 | 43 | DPO210*190*10 |
| 13 | DPO56*47.5*4 | 44 | DPO220*200*10 |
| 14 | DPO60*51.5*4 | 45 | DPO224*204*10 |
| 15 | DPO63*49*6.5 | 46 | DPO230*210*10 |
| 16 | DPO65*51*6.5 | 47 | DPO240*220*10 |
| 17 | DPO70*56*6.5 | 48 | DPO250*230*10 |
| 18 | DPO71*57*6.5 | 49 | DPO260*240*10 |
| 19 | DPO75*61*6.5 | 50 | DPO270*250*10 |
| 20 | DPO80*66*6.5 | 51 | DPO280*260*10 |
| 21 | DPO85*71*6.5 | 52 | DPO290*270*10 |
| 22 | DPO90*76*6.5 | 53 | DPO300*280*10 |
| 23 | DPO95*81*6.5 | 54 | DPO310*290*10 |
| 24 | DPO100*86*6.5 | 55 | DPO320*300*10 |
| 25 | DPO105*91*6.5 | 56 | DPO340*320*10 |
| 26 | DPO110*96*6.5 | 57 | DPO350*330*10 |
| 27 | DPO112*98*6.5 | 58 | DPO360*340*10 |
| 28 | DPO115*101*6.5 | 59 | DPO375*355*10 |
| 29 | DPO120*106*6.5 | 60 | DPO380*360*10 |
| 30 | DPO125*111*6.5 | 61 | DPO400*380*10 |
| 31 | DPO130*116*6.5 | | |