1.Installation Recommendation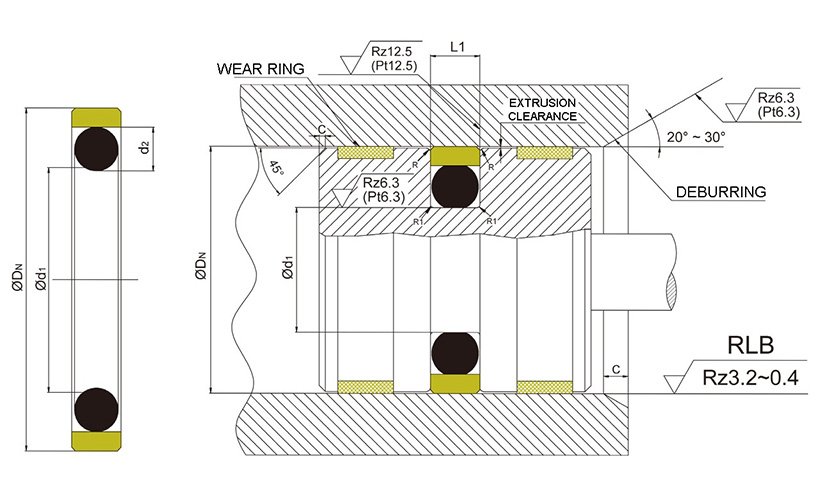 2.Application and properties
Standard double acting sealing, a wide range of applications. Friction resistance is very low, no crawling phenomenon, strong wear resistance, and saving installation space.
Sealing ring: filled PTFE
O-Ring: NBR / FKM
3.Working Conditions
Working Conditions

Diameter Range

Pressure Range

Temperature Range

Speed

Medium

3-1600mm

0-35MPa

-30℃+200℃

1.5 m/s

hydraulic oil, flame retardant liquid, water and others.
4.Installation Dimensions
Bore Dia.

Groove Width

Order No.

O-Ring Dimension

D H9

L1+0.2

60
65
70

6
6
6

SPGO60*6
SPGO65*6
SPGO70*6

43.5*5.3
48*5.3
53*5.3

75
80
85

6
6
6

SPGO75*6
SPGO80*6
SPGO85*6

58*5.3
63*5.3
67*5.3

90
95
100

6
6
6

SPGO90*6
SPGO95*6
SPGO100*6

73*5.3
77.5*5.3
83*5.3

105
110
115

6
6
6

SPGO105*6
SPGO110*6
SPGO115*6

87.5*5.3
92.5*5.3
97.5*5.3

120
125
130

6
6
6

SPGO120*6
SPGO125*6
SPGO130*6

103*5.3
108*5.3
112*5.3

135
140
145

6
6
6

SPGO135*6
SPGO140*6
SPGO145*6

118*5.3
123.19*5.3
128*5.3

150
155
160

6
6
6

SPGO150*6
SPGO155*6
SPGO160*6

132.72*5.3
138*5.3
142.24*5.3

165
170
175

6
6
6

SPGO165*6
SPGO170*6
SPGO175*6

148.5*5.3
151.77*5.3
158*5.3

180
185
190

6
6
6

SPGO180*6
SPGO185*6
SPGO190*6

164.47*5.3
167*5.3
173*5.3

195
80
85

6
7.9
7.9

SPGO195*6
SPGO80*7.9
SPGO85*7.9

177.17*5.3
56*7
61*7

90
95
100

7.9
7.9
7.9

SPGO90*7.9
SPGO95*7.9
SPGO100*7.9

66*7
71*7
77.5*7

105
110
115

7.9
7.9
7.9

SPGO105*7.9
SPGO110*7.9
SPGO115*7.9

82*7
86*7
92*7