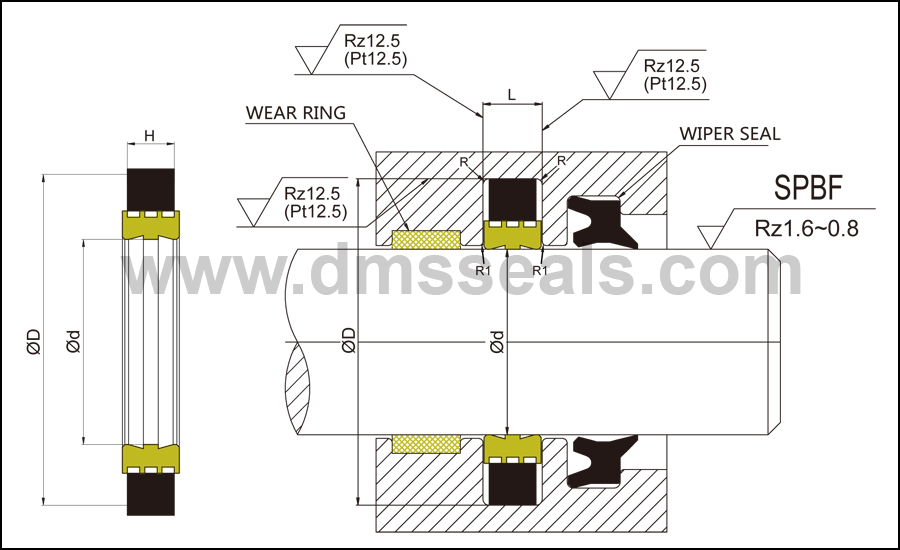 1. Standard material
Sealing body: filled with polytetrafluoroethylene F-PTFE
Elastomer: Nitrile NBR or Viton FKM
2. Scope of application
This seal has the same performance as SPNO. Since SPN is a square elastic body, it can provide a uniform expansion elastic force for the sealing ring, and can be well used in the situation of wide pressure working range and high sliding speed.
When designing and selecting, please refer to NOK's SPN series standards.
3. Features and Benefits
1. The groove is simple and can be used for integral piston.
2. Small friction, no crawling phenomenon.
3. The static sealing performance is very good. Ensure high wear resistance.
4. Due to the large extrusion gap, it can also be used safely in dirty media.
5. Square elastomer can ensure high durability.
6. Suitable for the latest environment-friendly and safe hydraulic fluid (bio-oil).
Groove Sizes

L +0.2

Order No.

d

D

H






18

20

22

27

29

31

4.3

4.3

4.3

4.5

4.5

4.5

MDI18*27*4.3

MDI20*29*4.3

MDI22*31*4.3

27

31.5

47

36

40.5

60

4.3

4.3

7.3

4.5

4.5

7.5

MDI27*36*4.3

MDI31.5*40.5*4.3

MDI47*60*7.3

53

60

65

66

73

78

7.3

7.3

7.3

7.5

7.5

7.5

MDI53*66*7.3

MDI60*73*7.3

MDI65*78*7.3

70

75

80

83

88

93

7.3

7.3

7.3

7.5

7.5

7.5

MDI70*83*7.3

MDI75*88*7.3

MDI80*93*7.3

90

100

110

103.4

113.4

123.4

7.3

7.3

7.3

7.5

7.5

7.5

MDI90*103.4*7.3

MDI100*113.4*7.3

MDI110*123.4*7.3

120

130

140

133.4

143.4

153.4

7.3

7.3

7.3

7.5

7.5

7.5

MDI120*133.4*7.3

MDI130*143.4*7.3

MDI140*153.4*7.3