1. Installation Recommendation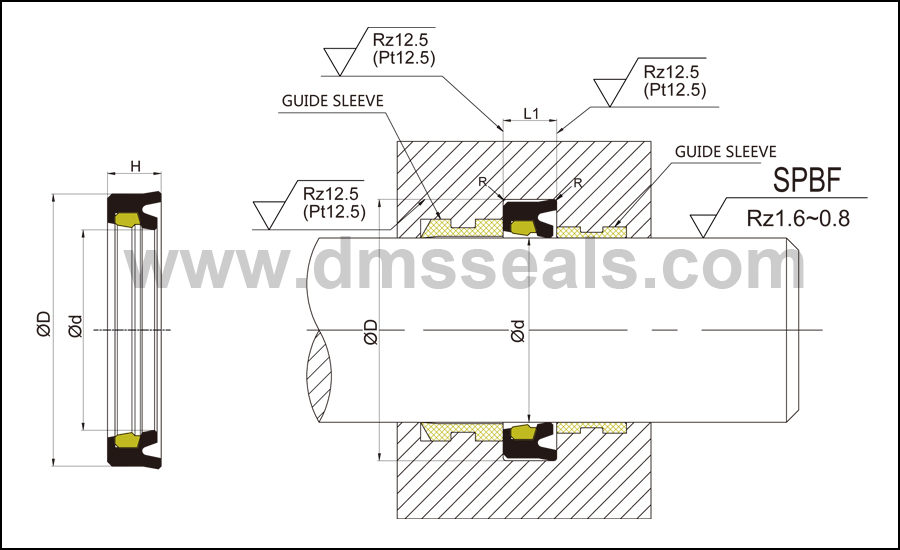 2. Installation Sizes
| | | | |
| --- | --- | --- | --- |
| Rod Diameter d e8 | Groove Diameter D H9 | Groove Width L D10 | H |
| 20-30 | d+8 | 7.5 | 7 |
| 31-35 | d+8 | 7.5 | 7 |
| 36-44 | d+8 | 8.5 | 8 |
| 45-55 | d+10 | 11.0 | 10 |
| 56-119 | d+15 | 13.0 | 12 |
| 120-319 | d+20 | 17.0 | 16 |
| 320-499 | d+30 | 21.0 | 20 |
| >499 | d+40 | 26.5 | 25 |
3. Application and properties
Applicable to hydraulic cylinder piston rod, generally used in conjunction with the guide sleeve. The special-shaped Y-Ring has the sealing function, provides the elasticity to the seal ring, and compensates for the abrasion. Wear-resisting, non stick slip phenomenon. It has a high stability under pressure and harsh conditions.
4. Standard materials
Sealing ring: filled PTFE
Y-Ring: NBR / PU
5. Working Conditions
Working Conditions

Diameter Range

Pressure Range

Temperature Range

Speed

Medium

3 - 1600mm

0 - 60MPa

-30℃ +100℃

1 m/s

Petroleum base hydraulic oil, nonflammable hydraulic fluid, water, and others.
6. Installation Dimensions
Rod Dia.

Outer Dia.

Groove Width

Order No.

d e8

D H9

L D10

20

22

23

28

30

31

7.5

7.5

7.5

TDI20*28*7.5

TDI22*30*7.5

TDI23*31*7.5

25

28

30

33

36

38

7.5

7.5

7.5

TDI25*33*7.5

TDI28*36*7.5

TDI30*38*7.5

32

35

36

40

43

44

7.5

7.5

8.5

TDI32*40*7.5

TDI35*43*7.5

TDI36*44*8.5

40

42

45

48

50

55

8.5

8.5

11

TDI40*48*8.5

TDI42*50*8.5

TDI45*55*11

47

48

50

57

58

60

11

11

11

TDI47*57*11

TDI48*58*11

TDI50*60*11

52

55

56

62

65

71

11

11

13

TDI52*62*11

TDI55*65*11

TDI56*71*13

60

63

65

75

78

80

13

13

13

TDI60*75*13

TDI63*78*13

TDI65*80*13

68

70

72

78

85

87

13

13

13

TDI68*78*13

TDI70*85*13

TDI72*87*13

75

80

83

90

95

98

13

13

13

TDI75*90*13

TDI80*95*13

TDI83*98*13