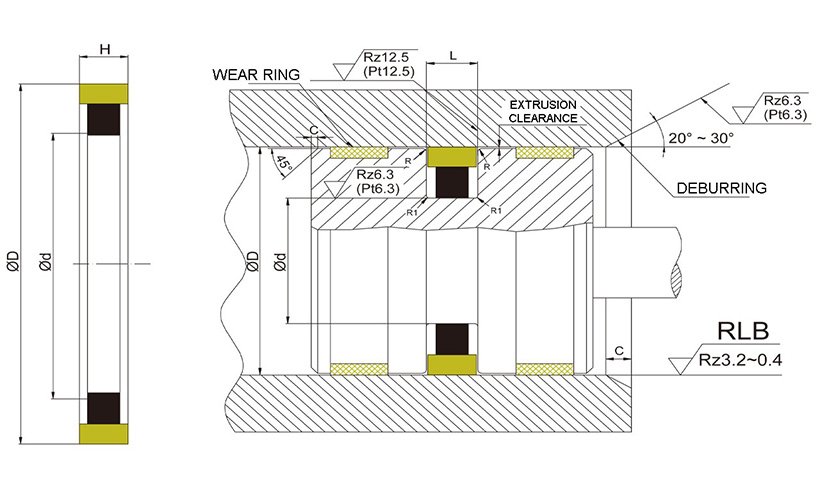 1. Performance and use
It is suitable for two-way motion piston seals, especially heavy-duty quick-response oil cylinders with a maximum working pressure of about 20-30MPa.
Small coefficient of friction, wear resistance, long life.
The working medium adaptability and working temperature range can be changed by changing the material of the square ring.
It can be used in special working conditions such as extremely high speed and extremely low speed.
Adapt to the one-piece piston, the installation groove is small, which is beneficial to the design of the cylinder size.
Comply with GB/T 15242.1-94 and GB/T 15242.3-94 standards.
It has good extrusion resistance and the installation gap is larger than that of ordinary seals.
2. Materials
Sealing ring: Filled with polytetrafluoroethylene (PTFE). According to different working conditions and sealing requirements, different filling materials and filling processes can be selected, please contact us for details.
Square Ring: Nitrile NBR. The material of the square ring is determined according to the temperature and working medium of the working condition, if you are not sure, please contact us.
3. Precautions:
Ⅰ. Under normal circumstances, this seal has a certain amount of static leakage. If there are strict requirements on maintaining the static position, it is recommended to use it with caution.
Ⅱ. For the matching square ring, if other parameters are qualified, the diameter of the ring is 1-2% different from the value listed in the sample, which will not affect the use.
Ⅲ. Before installation, use tooling or hot oil to expand the slip ring, and return it to its original shape after installation.
Ⅳ. This seal is designed for heavy-duty or high-pressure oil cylinders, and should be used with caution in light-duty or low-pressure cylinders.
| | | | |
| --- | --- | --- | --- |
| NO. | SIZE | NO. | SIZE |
| 1 | SPG30*20.5*4.5 | 34 | SPG155*139*7.5 |
| 2 | SPG31.5*22*4.5 | 35 | SPG160*144*7.5 |
| 3 | SPG32*22.5*4.5 | 36 | SPG170*148*11 |
| 4 | SPG35*25.5*4.5 | 37 | SPG180*158*11 |
| 5 | SPG35.5*26*4.5 | 38 | SPG190*168*11 |
| 6 | SPG40*30*4.5 | 39 | SPG200*178*11 |
| 7 | SPG45*35*4.5 | 40 | SPG210*188*11 |
| 8 | SPG50*40*4.5 | 41 | SPG215*193*11 |
| 9 | SPG55*45*4.5 | 42 | SPG220*198*11 |
| 10 | SPG56*46*4.5 | 43 | SPG230*208*11 |
| 11 | SPG60*50*4.5 | 44 | SPG240*218*11 |
| 12 | SPG63*48*7.5 | 45 | SPG250*228*11 |
| 13 | SPG65*50*7.5 | 46 | SPG260*236*12 |
| 14 | SPG69*54*7.5 | 47 | SPG270*246*12 |
| 15 | SPG70*55*7.5 | 48 | SPG280*256*12 |
| 16 | SPG71*56*7.5 | 49 | SPG290*266*12 |
| 17 | SPG75*60*7.5 | 50 | SPG300*276*12 |
| 18 | SPG80*65*7.5 | 51 | SPG310*286*12 |
| 19 | SPG85*70*7.5 | 52 | SPG320*296*12 |
| 20 | SPG90*75*7.5 | 53 | SPG330*308*10 |
| 21 | SPG95*80*7.5 | 54 | SPG360*336*12 |
| 22 | SPG100*85*7.5 | 55 | SPG400*376*12 |
| 23 | SPG105*90*7.5 | 56 | SPG485*455*15 |
| 24 | SPG108*92*7.5 | 57 | SPG500*470*15 |
| 25 | SPG110*94*7.5 | 58 | SPG550*515*17.5 |
| 26 | SPG112*96*7.5 | 59 | SPG600*570*15 |
| 27 | SPG120*104*7.5 | 60 | SPG650*620*15 |
| 28 | SPG125*109*7.5 | 61 | SPG720*690*15 |
| 29 | SPG130*114*7.5 | 62 | SPG800*785*13 |
| 30 | SPG135*119*7.5 | 63 | SPG900*870*25 |
| 31 | SPG140*124*7.5 | 64 | SPG930*890*20 |
| 32 | SPG145*129*7.5 | 65 | SPG950*925*18 |
| 33 | SPG150*134*7.5 | 66 | SPG1000*960*20 |
、