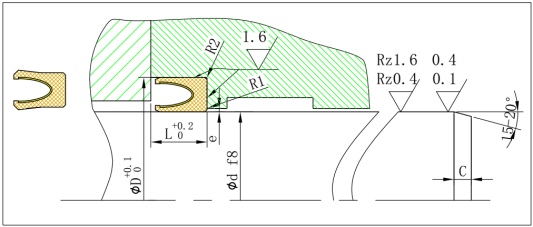 1. Performance and use
It is suitable for one-way sealing of reciprocating piston rod or piston, and the working pressure can be adapted to a wide range. The pressure resistance can be enhanced by increasing the length of the tail or adding a retaining ring.
The friction coefficient is small, the contact pressure with the mating surface is low, the friction force with the mating surface is the smallest among all types of seals during operation, it can work with or without lubrication, it is wear-resistant and has a long service life.
The working medium of the sealing sleeve has wide adaptability, except for soluble alkali metal, high-temperature fluorine gas and chlorine trifluoride, other chemicals do not react with it.
The wide operating temperature range can be used from -200°C to +250°C.
It can be used in special working conditions such as extremely high speed, extremely low speed, and micro stroke.
Available in aerospace, military and industrial seal groove sizes, the standard mounting groove is the same size as the standard O-ring mounting groove. It can also be designed as non-standard parts to meet the sealing requirements of grooves of any size. The grooves are open or semi-open.
Can be used for rotary shaft seals. Can accommodate large eccentricity and beating.
2. Materials
Sealing sleeve: Filled with polytetrafluoroethylene (PTFE). According to different working conditions and sealing requirements, different filling materials and filling processes can be selected, please contact us for details.
Spring: stainless steel 301, 302, 304, 316 or 718, depending on the specific working conditions, the default is 301, please inquire and explain before ordering for special working conditions.
3. Labeling method
Mark with the size of the installation groove. The marking method is (dual-purpose seal for the hole and shaft, and the mark is for the hole):
FSKR "bore D" × "groove bottom diameter d" × "groove width L" - "spring material" V
For example, FSKR-100×90×7.5-304V means "V-shaped spring hole shaft double-purpose universal plug, the working size is: aperture 100, groove bottom diameter 90, groove width 7.5, spring material is stainless steel 304, and the shape is V-shaped.
4. Precautions:
Ⅰ, The installation groove must be open or semi-open, it is recommended to be open.
Ⅱ, If it is a rotary shaft seal, it is recommended that the surface hardness of the shaft is not less than HRC40.
Ⅲ. When considering the adaptability of the working medium, the adaptability of the sealing sleeve and the spring should be considered.
Ⅳ. It is better to install an anti-fouling ring or a guide ring with anti-fouling effect on the front of the seal (notch direction).
Ⅴ, If the working pressure is greater than 20MPa, the groove width needs to be increased accordingly, and the specific value needs to consider factors such as working temperature and running speed.