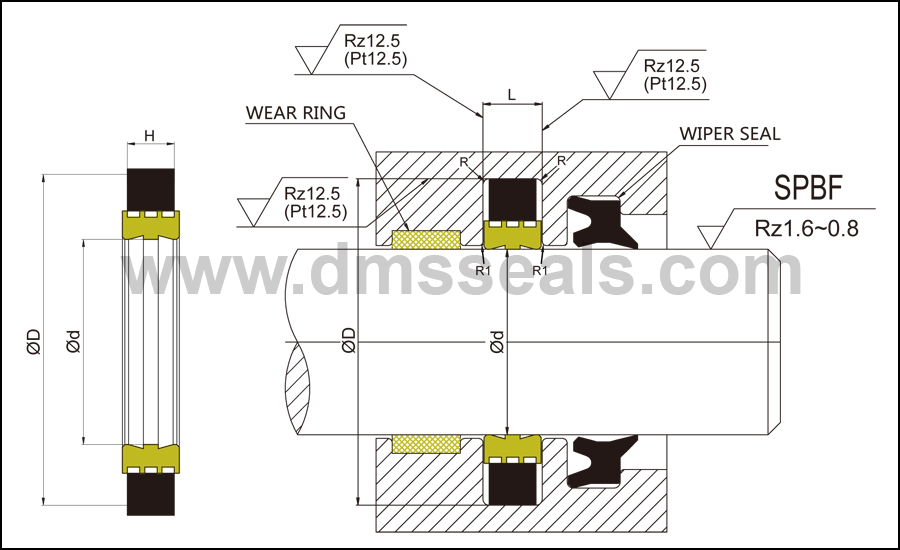 1. Performance and use
It is suitable for one-way and two-way reciprocating piston rod seals, and can also be used for rotary shaft seals, especially for heavy-duty rotary seals. In a wide range of fluid and high temperature occasions, it can be used for larger piston rod clearances and has strong extrusion resistance.
Small friction, simple groove.
It can be used in special working conditions such as extremely low speed and micro stroke.
The installation groove is smaller. The seal is easy to install and generally requires no special tools.
2. Materials
Sealing ring: Filled with polytetrafluoroethylene (PTFE). According to different working conditions and sealing requirements, different filling materials and filling processes can be selected. If there are particularly strict requirements on leakage, our special polyurethane material can be used. Please contact us for details.
Square rubber ring: nitrile rubber NBR, fluorine rubber FKM. The material of the square ring is determined according to the temperature and working medium of the working condition. If you are not sure, please contact us. If you need to match fluorine rubber (FKM) square ring, you need to explain before ordering.
Nominal size of the seal

L

order number




Nominal size of the seal

L

order number

d

D

H








d

D

H






18

27

4.3

4.5

SPN0180




70

83

7.3

7.5

SPN0700

20

29

4.3

4.5

SPN0200




75

88

7.3

7.5

SPN0750

22

31

4.3

4.5

SPN0220




80

93

7.3

7.5

SPN0800

27

36

4.3

4.5

SPN0270




90

103.4

7.3

7.5

SPN0900

31.5

40.5

4.3

4.5

SPN0315




100

113.4

7.3

7.5

SPN1000

47

60

7.3

7.5

SPN0470




110

123.4

7.3

7.5

SPN1100

53

66

7.3

7.5

SPN0530




120

133.4

7.3

7.5

SPN1200

60

73

7.3

7.5

SPN0600




130

143.4

7.3

7.5

SPN1300

65

78

7.3

7.5

SPN0650




140

153.4

7.3

7.5

SPN1400