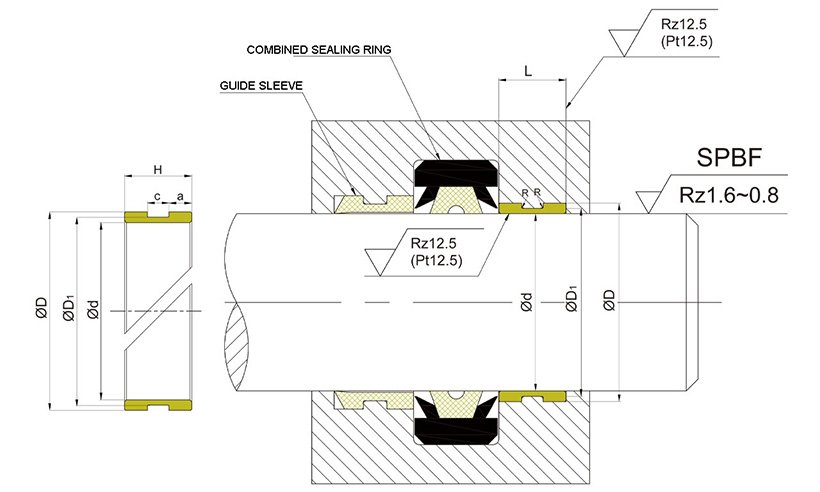 1. Performance and use
It is suitable for guiding the piston rod, supporting and guiding the piston rod. It has excellent vibration damping performance, easy and firm installation, and the pairing of metal and plastic materials can prevent "stagnation" and "seizure".
There is an axial positioning step in the middle, and the two ends can be in contact with the seal or open, so the installation space can be greatly saved, and it is often used for oil/air cylinders with limited axial dimensions.
Advantages: The radial dimension is large, even if there is a certain amount of wear and deformation, it can well isolate the rod and the hole, prevent them from contacting, and protect the rod very well.
2. Materials
Filled PTFE/nylon PA/polyoxymethylene POM
3. Precautions:
1. This guide ring is used for light oil/air cylinders or oil/air cylinders with small partial loads. It cannot be used for cylinders with large partial loads. Please inquire for details.
2. It is used in groups with DFAI, one DFAI and several DFIs are used together.
| | | | |
| --- | --- | --- | --- |
| NO. | SIZE | NO. | SIZE |
| 1 | DFI20*26*19 | 26 | DFI110*120*24 |
| 2 | DFI22*28*19 | 27 | DFI115*125*24 |
| 3 | DFI25*31*19 | 28 | DFI120*130*24 |
| 4 | DFI28*34*19 | 29 | DFI125*135*24 |
| 5 | DFI30*36*19 | 30 | DFI130*140*24 |
| 6 | DFI36*42*19 | 31 | DFI140*150*24 |
| 7 | DFI40*46*19 | 38 | DFI150*162*35 |
| 8 | DFI42*48*19 | 39 | DFI155*167*35 |
| 9 | DFI45*51*19 | 40 | DFI160*172*35 |
| 10 | DFI50*56*19 | 41 | DFI165*177*35 |
| 11 | DFI55*61*19 | 42 | DFI170*182*35 |
| 12 | DFI56*62*19 | 43 | DFI180*192*35 |
| 13 | DFI60*70*24 | 44 | DFI190*202*35 |
| 14 | DFI63*73*24 | 45 | DFI200*212*35 |
| 15 | DFI65*75*24 | 46 | DFI220*232*35 |
| 16 | DFI70*80*24 | 47 | DFI225*237*35 |
| 17 | DFI72*82*24 | 48 | DFI240*252*35 |
| 18 | DFI75*85*24 | 49 | DFI250*262*35 |
| 19 | DFI80*90*24 | 50 | DFI280*292*35 |
| 20 | DFI85*95*24 | 51 | DFI300*312*35 |
| 21 | DFI90*100*24 | 52 | DFI350*362*35 |
| 22 | DFI95*105*24 | 53 | DFI400*412*35 |
| 23 | DFI96*106*24 | 54 | DFI450*462*35 |
| 24 | DFI100*110*24 | 55 | DFI500*512*35 |
| 25 | DFI105*115*24 | 56 | DFI600*612*35 |
| | | 57 | DFI630*642*35 |