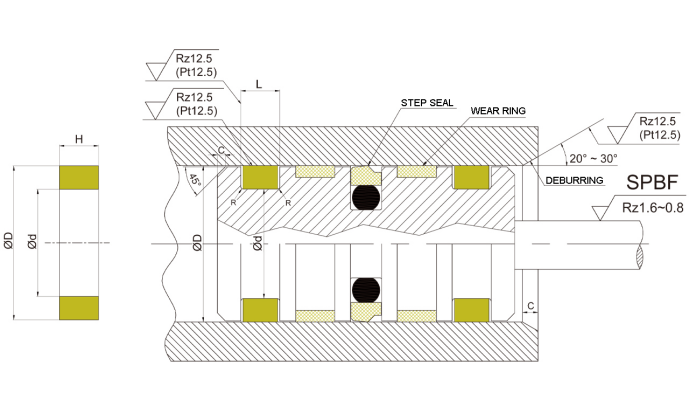 1. Performance and use
Generally used for construction machinery cylinders, mobile machinery cylinders, metallurgical cylinders and other cylinders that work in harsh working environments and with a lot of dust. Especially when there are many stains in the hydraulic oil due to various reasons in the hydraulic system, it is necessary to consider installing an anti-fouling ring to protect the seal.
The anti-fouling ring is used in combination with the piston seal and the anti-wear ring to prevent the oil in the cylinder from being damaged by impurities with high hardness, and at the same time isolate the main seal from the sealing space, which can effectively prevent diesel Effect on main seal ablation to ensure long service life of main seal. When used in conjunction with rod seals and metal bushings, it prevents damage to the piston rod. At the same time, there is a cutout and oil pressure bypass groove to prevent the accumulation of oil pressure.
The friction coefficient is small and does not affect the operation performance of the oil cylinder.
It can be used in special working conditions such as extremely high speed, extremely low speed, and micro stroke.
Open structure, easy to install.
2. Materials
Made of filled polytetrafluoroethylene, usually with low hardness, it is easy to inlay and absorb impurities with high hardness in the working fluid.
3. Precautions:
Ⅰ, generally installed at both ends of the piston, or the innermost end of the piston rod seal, to prevent the dirt in the oil from damaging the guide ring and the main seal.
Ⅱ. The anti-fouling ring basically has no guiding and sealing ability, so don't consider or calculate its guiding ability.
| | | | | | |
| --- | --- | --- | --- | --- | --- |
| NO. | SIZE | NO. | SIZE | NO. | SIZE |
| 1 | KZT70*62*4 | 24 | KZT190*182*6 | 47 | KZT130*122*9.5 |
| 2 | KZT75*67*4 | 25 | KZT100*92*7.9 | 48 | KZT135*127*9.5 |
| 3 | KZT80*72*4 | 26 | KZT105*97*7.9 | 49 | KZT140*132*9.5 |
| 4 | KZT85*77*4 | 27 | KZT110*102*7.9 | 50 | KZT145*137*9.5 |
| 5 | KZT90*82*4 | 28 | KZT115*107*7.9 | 51 | KZT150*142*9.5 |
| 6 | KZT80*72*6 | 29 | KZT120*112*7.9 | 52 | KZT160*152*9.5 |
| 7 | KZT85*77*6 | 30 | KZT125*117*7.9 | 53 | KZT170*162*9.5 |
| 8 | KZT90*82*6 | 31 | KZT130*122*7.9 | 54 | KZT180*172*9.5 |
| 9 | KZT95*87*6 | 32 | KZT135*127*7.9 | 55 | KZT190*182*9.5 |
| 10 | KZT100*92*6 | 33 | KZT140*132*7.9 | 56 | KZT200*192*9.5 |
| 11 | KZT105*97*6 | 34 | KZT145*137*7.9 | 57 | KZT90*82*14.8 |
| 12 | KZT110*102*6 | 35 | KZT150*142*7.9 | 58 | KZT95*87*14.8 |
| 13 | KZT115*107*6 | 36 | KZT160*152*7.9 | 59 | KZT100*92*14.8 |
| 14 | KZT120*112*6 | 37 | KZT170*162*7.9 | 60 | KZT105*97*14.8 |
| 15 | KZT125*117*6 | 38 | KZT180*172*7.9 | 61 | KZT110*102*14.8 |
| 16 | KZT130*122*6 | 39 | KZT190*182*7.9 | 62 | KZT115*107*14.8 |
| 17 | KZT135*127*6 | 40 | KZT200*192*7.9 | 63 | KZT120*112*14.8 |
| 18 | KZT140*132*6 | 41 | KZT100*92*9.5 | 64 | KZT125*117*14.8 |
| 19 | KZT145*137*6 | 42 | KZT105*97*9.5 | 65 | KZT130*122*14.8 |
| 20 | KZT150*142*6 | 43 | KZT110*102*9.5 | 66 | KZT135*127*14.8 |
| 21 | KZT160*152*6 | 44 | KZT115*107*9.5 | 67 | KZT140*132*14.8 |
| 22 | KZT170*162*6 | 45 | KZT120*112*9.5 | 68 | KZT145*137*14.8 |
| 23 | KZT180*172*6 | 46 | KZT125*117*9.5 | 69 | KZT150*142*14.8 |