1. Performance and use
DDKK is a double-acting sealing and guiding element, consisting of 1 elastomer, 1 sealing ring, 2 retaining rings and 2 guiding rings. The elastomer material is nitrile rubber or fluororubber, which produces pressure on the sealing ring, making the sealing ring close to the cylinder, thus playing a good sealing effect; the sealing ring is specially filled with polytetrafluoroethylene, which has suitable rigidity , and has a very small friction coefficient with the matching friction pair. The retaining ring can prevent the elastic body from being squeezed into the sealing gap, and the function of the guide ring is to guide the movement of the piston in the cylinder and absorb the radial force. Back-up rings and guide rings may be filled with specialty plastics such as PTFE, nylon, or acetal.
It is mainly used for oil cylinders that require small friction coefficient of the sealing system and limited installation space of the piston seal.
The outstanding feature of this seal is that the retaining ring, guide ring and seal are installed in one groove, which greatly saves the installation space. Usually used for oil cylinders with small bores, no other seals are required on the pistons.
2. Materials
Guide Ring: Filled PTFE, Nylon or Acetal
Retaining ring: filled with polytetrafluoroethylene, nylon or polyoxymethylene
Elastomer: NBR or Viton
Slip ring: filled with polytetrafluoroethylene
3. Relevant dimensions:
R1=0.3~0.5 at the groove side and groove bottom; R2=0.5, R3=0.2, C1=3~15. The specific values are selected according to the size of the section of the seal. See the product size table for other values
4. Precautions:
Ⅰ. Under normal circumstances, for oil cylinders with small cylinder diameters and small eccentric loads, there is no need to install additional guide rings on the pistons. If the bore diameter is large (greater than 60-70), it is recommended to install guide rings.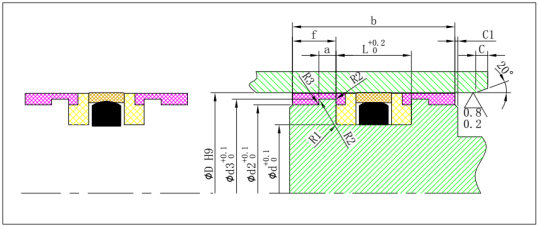 | | | | | | | | | | |
| --- | --- | --- | --- | --- | --- | --- | --- | --- | --- |
| D | d | b | d2 | d3 | a | L | f | C | order number |
| 40 | 26 | 32 | 32 | 36 | 3.5 | 15.5 | 8.25 | 7 | DDKK0400 |
| 45 | 31 | 32 | 37 | 41 | 3 | 15.5 | 8.25 | 7 | DDKK0450 |
| 50 | 34 | 39 | 42 | 46 | 3 | 20.5 | 9.25 | 7 | DDKK0500 |
| 56 | 40 | 39 | 48 | 52 | 3 | 20.5 | 9.25 | 7 | DDKK0560 |
| 60 | 44 | 39 | 52 | 56 | 3 | 20.5 | 9.25 | 7 | DDKK0600 |
| 63 | 47 | 39 | 55 | 59 | 3 | 20.5 | 9.25 | 7 | DDKK0630 |
| 65 | 49 | 39 | 57 | 61 | 3 | 20.5 | 9.25 | 7 | DDKK0650 |
| 70 | 54 | 39 | 62 | 66 | 3 | 20.5 | 9.25 | 7 | DDKK0700 |
| 75 | 59 | 39 | 67 | 71 | 3 | 20.5 | 9.25 | 7 | DDKK0750 |
| 80 | 62 | 43 | 72 | 76 | 3 | 22.5 | 10.25 | 7 | DDKK0800 |
| 85 | 67 | 43 | 77 | 81 | 3 | 22.5 | 10.25 | 7 | DDKK0850 |
| 90 | 72 | 43 | 82 | 86 | 3 | 22.5 | 10.25 | 7 | DDKK0900 |
| 95 | 77 | 43 | 87 | 91 | 3 | 22.5 | 10.25 | 7 | DDKK0950 |
| 100 | 82 | 43 | 92 | 96 | 3 | 22.5 | 10.25 | 7 | DDKK1000 |
| 105 | 87 | 43 | 97 | 101 | 3 | 22.5 | 10.25 | 10 | DDKK1050 |
| 110 | 92 | 43 | 102 | 106 | 3 | 22.5 | 10.25 | 10 | DDKK1100 |
| 115 | 97 | 43 | 107 | 111 | 3 | 22.5 | 10.25 | 10 | DDKK1150 |
| 120 | 102 | 43 | 112 | 116 | 3 | 22.5 | 10.25 | 10 | DDKK1200 |
| 125 | 103 | 53 | 115 | 121 | 4 | 26.5 | 13.25 | 10 | DDKKl250 |
| 130 | 108 | 53 | 120 | 126 | 4 | 26.5 | 13.25 | 10 | DDKK1300 |
| 140 | 118 | 53 | 130 | 136 | 4 | 26.5 | 13.25 | 10 | DDKK1400 |
| 150 | 128 | 53 | 140 | 146 | 4 | 26.5 | 13.25 | 10 | DDKK1500 |
| 160 | 138 | 53 | 150 | 156 | 4 | 26.5 | 13.25 | 10 | DDKK1600 |
| 165 | 143 | 57 | 155 | 161 | 6 | 26.5 | 15.25 | 10 | DDKK1650 |
| 170 | 148 | 57 | 160 | 166 | 6 | 26.5 | 15.25 | 10 | DDKK1700 |
| 180 | 158 | 57 | 170 | 176 | 6 | 26.5 | 15.25 | 10 | DDKK1800 |
| 190 | 165 | 64 | 180 | 186 | 4.5 | 31.5 | 16.25 | 10 | DDKK1900 |
| 195 | 170 | 64 | 185 | 191 | 4.5 | 31.5 | 16.25 | 10 | DDKK1950 |
| 200 | 175 | 64 | 190 | 196 | 4.5 | 31.5 | 16.25 | 10 | DDKK2000 |
| 210 | 185 | 71 | 200 | 206 | 8 | 31.5 | 19.75 | 12 | DDKK2100 |
| 220 | 195 | 71 | 210 | 216 | 8 | 31.5 | 19.75 | 12 | DDKK2200 |
| 225 | 200 | 71 | 215 | 221 | 8 | 31.5 | 19.75 | 12 | DDKK2250 |
| 230 | 205 | 85 | 220 | 226 | 15 | 31.5 | 26.75 | 12 | DDKK2300 |
| 240 | 215 | 85 | 230 | 236 | 15 | 31.5 | 26.75 | 12 | DDKK2400 |
| 250 | 225 | 85 | 240 | 246 | 15 | 31.5 | 26.75 | 12 | DDKK2500 |
| 255 | 230 | 85 | 245 | 251 | 15 | 31.5 | 26.75 | 12 | DDKK2550 |
| 270 | 245 | 85 | 260 | 266 | 15 | 31.5 | 26.75 | 12 | DDKK2700 |
| 275 | 250 | 85 | 265 | 271 | 15 | 31.5 | 26.75 | 12 | DDKK2750 |
| 280 | 255 | 85 | 270 | 276 | 15 | 31.5 | 26.75 | 12 | DDKK2800 |
| 290 | 265 | 85 | 280 | 286 | 15 | 31.5 | 26.75 | 12 | DDKK2900 |
| 300 | 275 | 85 | 290 | 296 | 15 | 31.5 | 26.75 | 12 | DDKK3000 |
| 310 | 280 | 80 | 298 | 304 | 8.5 | 36.5 | 21.75 | 15 | DDKK3100 |
| 320 | 290 | 80 | 308 | 314 | 8.5 | 36.5 | 21.75 | 15 | DDKK3200 |
| 330 | 300 | 80 | 318 | 324 | 8.5 | 36.5 | 21.75 | 15 | DDKK3300 |
| 340 | 310 | 80 | 328 | 334 | 8.5 | 36.5 | 21.75 | 15 | DDKK3400 |
| 350 | 320 | 80 | 338 | 344 | 8.5 | 36.5 | 21.75 | 15 | DDKK3500 |
| 360 | 330 | 80 | 348 | 354 | 8.5 | 36.5 | 21.75 | 15 | DDKK3600 |
| 380 | 350 | 80 | 368 | 374 | 8.5 | 36.5 | 21.75 | 15 | DDKK3800 |
| 400 | 370 | 80 | 388 | 394 | 8.5 | 36.5 | 21.75 | 15 | DDKK4000 |
| 420 | 390 | 80 | 408 | 414 | 8.5 | 36.5 | 21.75 | 15 | DDKK4200 |
| 450 | 420 | 80 | 438 | 444 | 8.5 | 36.5 | 21.75 | 15 | DDKK4500 |