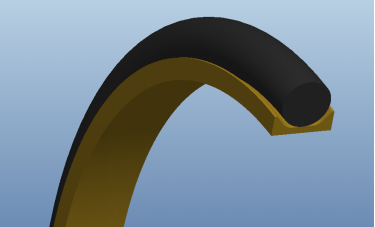 1.Performance and use
Adapt to bidirectional reciprocating rod sealing. The leakage is extremely small, it can be used in a wide range of media and temperature situations, the friction is small, and it is recommended to give priority to servo cylinders that require fast response.
The working medium adaptability and operating temperature range can be changed by changing the material of the O-ring.
The installation groove is small and the groove is simple.
Seals are easy to install and generally require no special tools.
Comply with GB/T 15242.1-94 and GB/T 15242.3-94 standards.
2.Materials
Sealing ring: filled with polytetrafluoroethylene (PTFE). According to different working conditions and sealing requirements, different filling materials and filling processes can be selected. Please inquire for details.
O-ring: nitrile rubber NBR, fluorine rubber FKM. The material of the O-ring is determined according to the temperature and working medium of the operating conditions. If you are not sure, please contact us. If you need fluorine rubber (FKM) O-ring, please explain before ordering.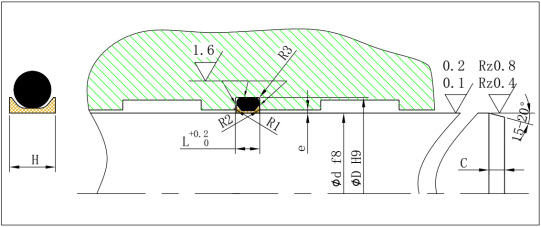 4.Related dimensions:
R1=0.3~0.5; R2=0.1~0.2; R3=0.5~1; e=0.1~0.25; C=(0.5~0.7)L. The specific values are selected according to the seal cross-section size and working pressure.