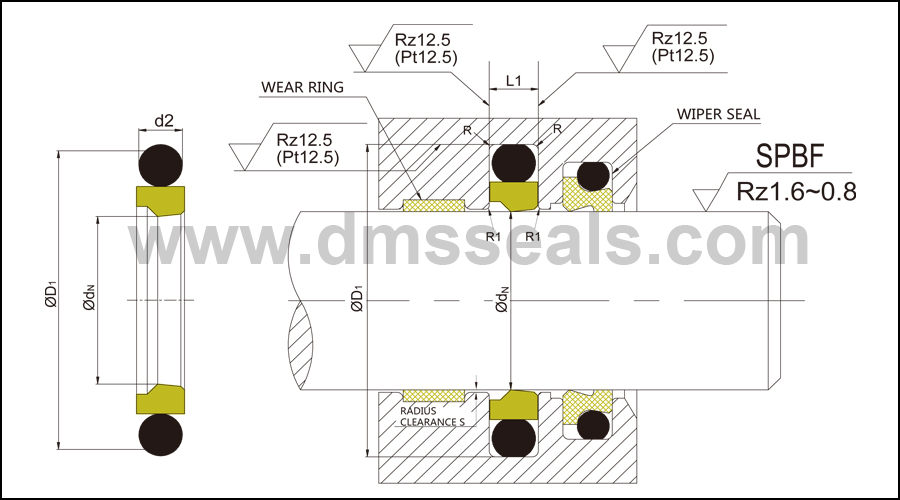 1. Performance and use
It is suitable for one-way piston rod sealing and can be connected in series to withstand high pressure.
The friction coefficient is small, and it can work with or without lubrication, and can be used for oil-free lubrication cylinder seals. Servo cylinders that require quick response are recommended to be preferred.
The adaptability of the working medium and the working temperature range can be changed by changing the material of the O-ring.
It can be used in special working conditions such as extremely high speed, extremely low speed, and micro stroke.
The installation groove is small, which is beneficial to the design of the cylinder size. The seal is easy to install and generally requires no special tools.
Comply with GB/T 15242.1-94 and GB/T 15242.3-94 standards.
Products with different cross-sections can be selected according to the actual working pressure. In principle, the greater the working pressure, the larger the cross-section should be selected.
2. Materials
Sealing ring: Filled with polytetrafluoroethylene (PTFE). According to different working conditions and sealing requirements, different filling materials and filling processes can be selected, please inquire for details.
O-ring: nitrile rubber NBR, fluororubber FKM. The material of the O-ring is determined according to the temperature and working medium of the working condition, if you are not sure, please contact us. If you need to match fluorine rubber (FKM) O-ring, you need to explain before ordering.
3. Precautions:
Ⅰ. Under normal circumstances, this seal is ideal as a buffer seal. It is not recommended to be used as a separate seal. If the retracting speed of the piston rod is greater than the extending speed, it can be used alone, but it must cooperate with the double-lip dust-proof lock up.
Ⅱ. If other parameters of the matched O-ring are qualified, the diameter of the ring is 1-2% larger than the value listed in the sample, which will not affect the use.
Ⅲ. When installing, you can bend the sealing ring into a heart shape and put it into the groove, but there must be no creases. In the two cases shown in the figure below, A is allowed and B is forbidden.
Ⅳ. Pay attention to the direction when installing this seal, the notch corresponds to the direction of oil pressure.
Ⅴ, the hardness value of the piston rod surface is recommended to be greater than HRC40.
(non-recoverable creases)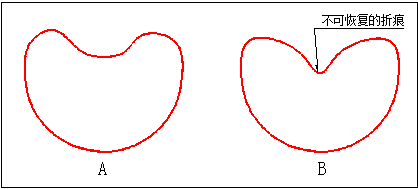 | | | | |
| --- | --- | --- | --- |
| NO. | SIZE | NO. | SIZE |
| 1 | GSJ20*27.3*3.2 | 48 | GSJ135*150.1*6.3 |
| 2 | GSJ20*30.7*4.2 | 49 | GSJ135*155.5*8.1 |
| 3 | GSJ22*29.3*3.2 | 50 | GSJ140*155.1*6.3 |
| 4 | GSJ22*32.7*4.2 | 51 | GSJ140*160.5*8.1 |
| 5 | GSJ25*32.3*3.2 | 52 | GSJ145*160.1*6.3 |
| 6 | GSJ25*35.7*4.2 | 53 | GSJ150*165.1*6.3 |
| 7 | GSJ28*38.7*4.2 | 54 | GSJ150*170.5*8.1 |
| 8 | GSJ30*40.7*4.2 | 55 | GSJ160*175.1*6.3 |
| 9 | GSJ32*42.7*4.2 | 56 | GSJ160*180.5*8.1 |
| 10 | GSJ35*45.7*4.2 | 57 | GSJ165*180.1*6.3 |
| 11 | GSJ36*46.7*4.2 | 58 | GSJ170*185.1*6.3 |
| 12 | GSJ40*50.7*4.2 | 59 | GSJ170*190.5*8.1 |
| 13 | GSJ40*55.1*6.3 | 60 | GSJ180*195.1*6.3 |
| 14 | GSJ45*55.7*4.2 | 61 | GSJ180*200.5*8.1 |
| 15 | GSJ45*60.1*6.3 | 62 | GSJ190*205.1*6.3 |
| 16 | GSJ50*60.7*4.2 | 63 | GSJ190*210.5*8.1 |
| 17 | GSJ50*65.1*6.3 | 64 | GSJ200*220.5*8.1 |
| 18 | GSJ55*65.7*4.2 | 65 | GSJ210*230.5*8.1 |
| 19 | GSJ55*70.1*6.3 | 66 | GSJ220*240.5*8.1 |
| 20 | GSJ60*70.7*4.2 | 67 | GSJ230*250.5*8.1 |
| 21 | GSJ60*75.1*6.3 | 68 | GSJ240*260.5*8.1 |
| 22 | GSJ63*73.7*4.2 | 69 | GSJ250*270.5*8.1 |
| 23 | GSJ63*78.1*6.3 | 70 | GSJ260*284*8.1 |
| 24 | GSJ65*80.1*6.3 | 71 | GSJ270*294*8.1 |
| 25 | GSJ70*80.7*4.2 | 72 | GSJ280*304*8.1 |
| 26 | GSJ70*85.1*6.3 | 73 | GSJ290*314*8.1 |
| 27 | GSJ75*90.1*6.3 | 74 | GSJ300*324*8.1 |
| 28 | GSJ80*95.1*6.3 | 75 | GSJ310*334*8.1 |
| 29 | GSJ85*100.1*6.3 | 76 | GSJ320*344*8.1 |
| 30 | GSJ90*105.1*6.3 | 77 | GSJ330*354*8.1 |
| 31 | GSJ90*110.5*8.1 | 78 | GSJ340*364*8.1 |
| 32 | GSJ95*110.1*6.3 | 79 | GSJ350*374*8.1 |
| 33 | GSJ95*115.5*8.1 | 80 | GSJ360*384*8.1 |
| 34 | GSJ100*115.1*6.3 | 81 | GSJ370*394*8.1 |
| 35 | GSJ100*120.5*8.1 | 82 | GSJ380*404*8.1 |
| 36 | GSJ105*120.1*6.3 | 83 | GSJ390*414*8.1 |
| 37 | GSJ105*125.5*8.1 | 84 | GSJ400*424*8.1 |
| 38 | GSJ110*125.1*6.3 | 85 | GSJ410*434*8.1 |
| 39 | GSJ110*130.5*8.1 | 86 | GSJ420*444*8.1 |
| 40 | GSJ115*130.1*6.3 | 87 | GSJ430*454*8.1 |
| 41 | GSJ115*135.5*8.1 | 88 | GSJ440*464*8.1 |
| 42 | GSJ120*135.1*6.3 | 89 | GSJ450*474*8.1 |
| 43 | GSJ120*140.5*8.1 | 90 | GSJ460*484*8.1 |
| 44 | GSJ125*140.1*6.3 | 91 | GSJ470*494*8.1 |
| 45 | GSJ125*145.5*8.1 | 92 | GSJ480*504*8.1 |
| 46 | GSJ130*145.1*6.3 | 93 | GSJ490*514*8.1 |
| 47 | GSJ130*150.5*8.1 | 94 | GSJ500*524*8.1 |