1. Performance and use
It is suitable for one-way or two-way piston rod sealing, and it also has good sealing performance at medium and low pressures, with very little leakage.
The friction coefficient is small, and it can work with or without lubrication, and can be used for oil-free lubrication cylinder seals. Servo cylinders that require quick response are recommended to be preferred.
The adaptability of the working medium and the working temperature range can be changed by changing the material of the O-ring.
It can be used in special working conditions such as extremely high speed, extremely low speed, and micro stroke.
The installation groove is smaller. The seal is easy to install and generally requires no special tools.
Comply with GB/T 15242.1-94 and GB/T 15242.3-94 standards.
Products with different cross-sections can be selected according to the actual working pressure. In principle, the greater the working pressure, the larger the cross-section should be selected.
2.material
Sealing ring: Filled with polytetrafluoroethylene (PTFE). According to different working conditions and sealing requirements, different filling materials and filling processes can be selected. If the leakage rate is extremely strict, our special PU material can be used. Please inquire for details.
O-ring: nitrile rubber NBR, fluororubber FKM. The material of the O-ring is determined according to the temperature and working medium of the working condition, if you are not sure, please contact us. If you need to match fluorine rubber (FKM) O-ring, you need to explain before ordering.
3. Relevant dimensions:
Front pressure surface R1=0.3~0.5; back pressure surface R2=0.1~0.2; groove bottom R3=0.5~1; maximum clearance e=0.2~0.5; lead-in length C=(0.5~0.7)L. The specific value depends on the seal The size of the section is selected as appropriate. See the table below for the rest of the values:
Rod Diameter dN h9

Groove Diameter

Groove Width

Radius

Radial Clearance S max.

O-Ring Cross-Section

Standard Application

Light Application

Heavy Duty Application

D1 H9

L1+0.2

R1

10MPa

20MPa

40MPa

d2

3-7.9

8-18.9

-

dN+4.9

2.2

0.4

0.3

0.20

0.15

1.78

8-18.9

19-37.9

-

dN+7.3

3.2

0.6

0.4

0.25

0.15

2.62

19-37.9

38-199.9

8-18.9

dN+10.7

4.2

1.0

0.4

0.25

0.20

3.53

38-199.9

200-255.9

19-37.9

dN+15.1

6.3

1.3

0.5

0.30

0.20

5.33

200-225.9

256-649.9

38-199.9

dN+20.5

8.1

1.8

0.6

0.35

0.25

7.00

256-649.9

650-999.9

200-255.9

dN+24.0

8.1

1.8

0.6

0.35

0.25

7.00

650-999.9

≥1000.0

256-649.9

dN+27.3

9.5

2.5

0.7

0.50

0.30

8.40

≥1000.0

-

650-999.9

dN+38.0

13.8

3.0

1.0

0.70

0.60

12.00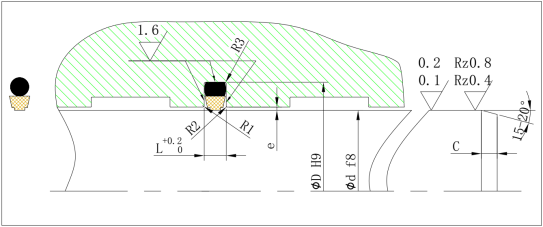 4. Precautions:
Ⅰ. If other parameters of the matched O-ring are qualified, the diameter of the ring is 1-2% larger than the value listed in the sample, which will not affect the use.
Ⅱ. When installing, you can bend the sealing ring into a heart shape and put it into the groove, but there must be no creases. In the two cases shown in the figure below, A is allowed and B is prohibited.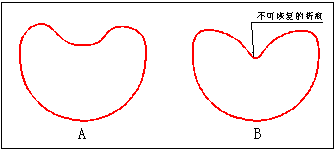 (non-recoverable creases)